Don Lemmon's KNOW HOW Books
By Don Lemmon, Best Sellers Since 1997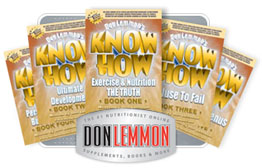 Menu Software


Coming Soon

DVD's & Videos


Coming Soon

Audio Programs


Coming Soon
THE 100% MONEY BACK GUARANTEE PROMISE:
Don Lemmon would like to see everyone succeed with their fitness and exercise goals. That's why he is put so much time and energy into creating the best products for your consumption and the easiest to understand books for your education. Backing up his products with a 100% IRON CLAD money back guarantee is just icing on the cake! If you don't see results within 30 days, while we truly doubt you put the minimal effort into things, we will not argue. Don Lemmon will promptly refund you your money, no questions asked. You've got nothing to lose but body fat with that sort of agreement! Here's the deal. Begin today by keeping a log and taking note of the following items:
• Your weight, along with waist measurement ...
• Daily diet, nutrition and eating habits ...
• Workouts, including pounds lifted and reps performed ...
When done, make a list of your overall fitness and nutritional goals. Next, set a date of which you would like to achieve these goals and what changes you would like to see by then. Take a look at it when you are done. Do you know what is missing? A good plan to get you from Point A to Point B! Don Lemmon's KNOW HOW!
Follow my program for just 30 days, that's all I ask. Eat right, exercise, 'take your vitamins,' and let my KNOW HOW guide you. Keeping a daily log of the above bulleted items allows us to be sure you did things right, and sending them to me everyday via e-mail ensures your results.
No, it is not a bother, it is an honor to read your mail. And by doing this, together, we will see your goals met! If not, that's cool, after 30 days I will simply refund your money. So come on! I must be pretty sure of myself to take the risk. Give my fool proof plan a try!
NOTE: Orders are processed and shipped the same day and supplements are billed for recurring refills each month so you never run out of products. If you decide to cancel refills, simply e-mail us and your automatic shipments will be cancelled. However, we do not accept returns of packages that are damaged, used, out dated, already opened, or tampered with. Laws and rules are in effect to protect both the vendor and customer.